Enter your information below
to get best deals from Serenia Hills
Serenia Hills, House for Sale Jakarta Selatan
Immerse Yourself in Tranquility in Jakarta House, Serenia Hills
Welcome to Serenia Hills, your beautiful home set in tranquility. This Jakarta house has one of the best natural landscapes in South Jakarta, ensuring family harmony in a peaceful environment. A community of more than 450 families, Serenia Hills present spacious and airy living room for you and family members to enjoy in the midst of lush greeneries.
With a total area of more than 20 hectares, this house for sale Jakarta Selatan is just minutes from the future MRT station and a few blocks away from the central business district of TB Simatupang. Experience a new measure of quality living in the prestigious community of South Jakarta. A Jakarta house that serves none other than the very best in living and memorable experience you have been aspiring for. Live in Serenia Hills, your world of peace and serenity.
All Around Access, Safety and Security
Serenia Hills is only minutes away from schools, hospitals, malls and offices around TB Simatupang. This smart, innovative house for sale Jakarta Selatan awaits you. Its smart surveillance and security features ensure your total privacy and comfort.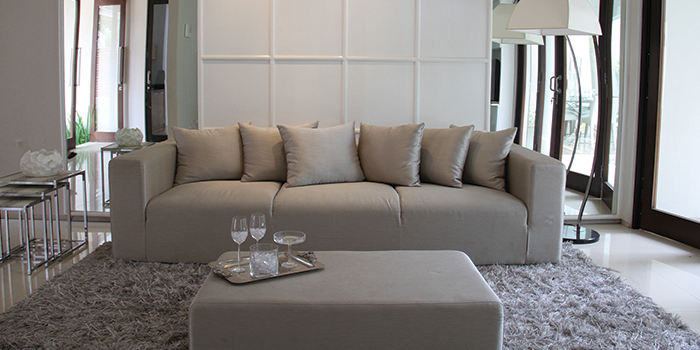 You will be well protected by Serenia Hills' 24-hour trained security guards ready 24/7 basis to control and monitor physical access to your property as well as 24-hour surveillance cameras and a special Panic Button that sends a distress signal to security for emergency assistance. For secured access to the premises, all vehicles must go through card-operated bump gate at this house for sale Jakarta Selatan.
Hang out at your Jakarta house clubhouse, where all the high-profile residents come together and enjoy the state-of-the-art amenities. Available for use are soccer fields (Seven Soccer & Mini Soccer), kids' playground, gym, sauna, swimming pool, pool bar, and function room to hold an event or your own private party at Serenia Hills.
Surrounded by pristine greeneries, the clubhouse completes your lifestyle and brings the utmost relaxation to you and families. Serena Hills' professional property management also works hard to ensure total comfort by providing fiber optic network access to your Jakarta house.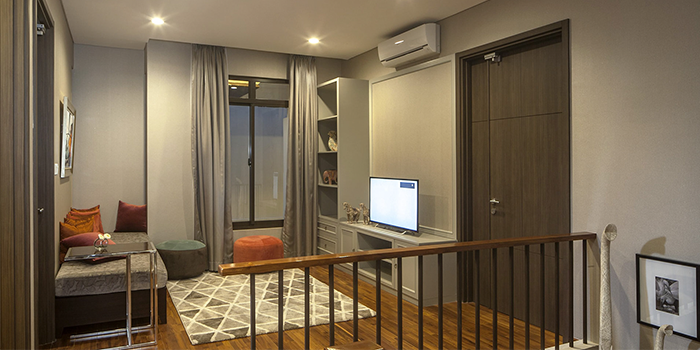 Around the area:
Here is a quick list of the surrounding area that may interest you.
Accessibility:
Lebak Bulus MRT Station 2 km
Pondok Pinang Toll Gate 3 km
Offices
Bona Indah Plaza 1 km
South Quarter 4 km
Talavera 9 km
Educational Institutions
Al-Izhar 8 km
Jakarta International Schools 3 km
Highscope Indonesia 5 km
Medical Centers
Mayapada Hospital 6 km
Fatmawati Hospital 4 km
Pondok Indah Hospital 6 km
Shopping Malls
DOME South Quarter 4 km
Cilandak Town Square 4 km
Pondok Indah Mall 6 km
Supermarkets
Food Hall 650 m
Giant 3 km
Carrefour 9 km
Your Ideal House in South Jakarta
Serenia Hills is the ideal Jakarta house for you. Choose from several options: two-story or three-story house. The first floor mainly functions as service area and garage. The main rooms such as the living room, dining area, pantry and bedrooms are located in the second and third floor, depending on your unit style.
Serenia Hills' Quantum unit is a three-story house boasting 3 bedrooms and 3 bathrooms with up to 5,500 w electricity, good for all your living needs. The Signature unit is a two-story house boasting 4 bedrooms and 4 bathrooms with up to 7,500 w electricity, much more than other common house for sale Jakarta Selatan and enough for your luxury lifestyle.
Award Winning Property
Enjoy living in Serenia Hills, a prestigious award winning property.  Rest assured that your home is well taken care of. Here are some of the awards that reflect the high value of your Jakarta house:
The Most Preferred Landed Houses in South Tangerang Real Estate Awards 2018
Best Housing Development in Indonesia Indonesia Property Awards 2018
Top 8 Marketing Communication in Housing Category Indonesia Property Award 2018 by Warta Ekonomi
The Most Preferred Landed Houses in Tangerang Real Estate Awards 2018
The Best Innovation in Property Product Concept Property Innovation Award 2017
Most Popular Landed Development in South Jakarta Consumer Choice Awards 2017
Best Compact Development BTN Golden Property Awards 2017
Favorite Residential Housing Estate Green Property Award 2013
There is no other house for sale Jakarta Selatan that can be compared to Serenia Hills. Value, comfort, tranquility and all round access define this prestigious property. Designed specifically for tasteful lifestyle seeker, Serenia Hills definitely falls into your criteria. If you are looking for the most admired house for sale Jakarta Selatan, this is the perfect offering. Call your property consultant today or visit our marketing office for more information.