Enter your information below
to get best deals from South Grove
High Class Luxury House for Sale in South Jakarta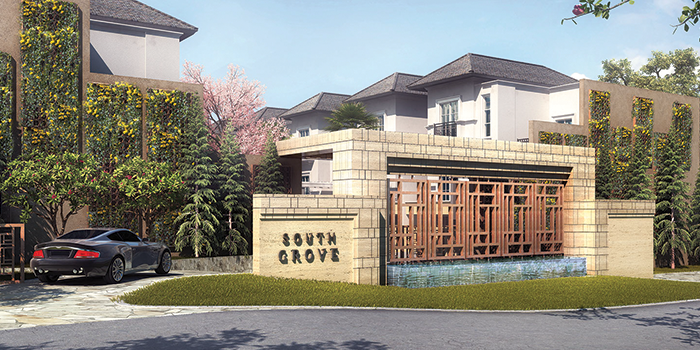 Welcome to South Grove, where high class luxury living is redefined. Enjoy total comfort and serenity in your house near MRT where security of the surrounding environment protects your privacy. This house for sale Jakarta has cozy location and pleasant atmosphere that is near all your modern essentials that all family members will love.
This is life at South Grove. A peaceful green enclave of luxury homes strategically located close to the heart of South Jakarta's thriving business district. Each of the 16 homes in the development offers residents privacy and comfort within a unique community that will enjoy access to extensive lifestyle facilities in the neighborhood. South Grove living focuses on quality of life while still connects the best of South Jakarta.
Location
Positioned between two successful and iconic South Jakarta projects South Quarter and Serenia Hills South Grove is strategically located in the heart of South Jakarta's business district. This house for sale Jakarta is also near many public facilities such as hospitals and medical centers, shopping malls, TB Simatupang business center, international schools and Lebak Bulus MRT Station. They are all easily within easy reach from this house near MRT.
In addition to having access to South Quarter facilities, your South Grove residency will also benefit from the management and facilities of Serenia Hills, a luxury 24-hectare gated community close to this house for sale Jakarta. The facilities include basketball, tennis and soccer courts, swimming pools, kids' playground, jogging and bicycle tracks, a clubhouse, outdoor communal spaces and BBQ area.
Luxury Design by Renowned Designer
South Grove is meant for the classy families. Your dream home is individually designed by Hadiprana, one of the most respected Interior Designers in Indonesia. Hadiprana's architectural and interiors firm meticulously creates and curates the interiors of this house near MRT's show unit.
Hadiprana's award-winning practice is gaining widespread recognition and reputation for its artistic and elegant spaces. For more than five decades, Hadiprana has built on an ethos of work, passion, and an elegant sensibility, all of which are reflected in the firm's creative projects. Hadiprana projects are remarkable for their degree of artisanship, with each one uniquely shaped by the individuals involved.
Hadiprana has solidly demonstrated expertise in architecture, interiors, special lighting, landscape, and artwork, as well as developing his own brands, the Hadiprana Accent furniture. His previous notable projects include the remarkable Chedi Tanah Gajah, Bali and now reflected in South Grove house for sale Jakarta.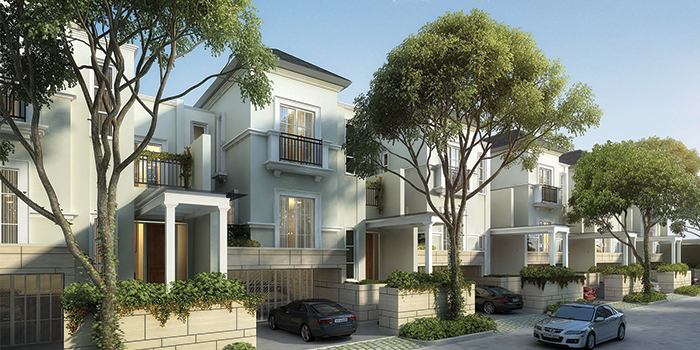 First Class Finishing
You will  stand out as a proud owner of this house near MRT. Choose from three types of home. Similar in size, each three-story house has four bedrooms and four bathrooms with a parking space large enough for four cars. Each house also has gardens and terrace for harmonic lifestyle elements.
Mini-pile foundations and exterior weather shield paint finish protect the house's architecture. Powder coat aluminum window frame with clear glass ensures maximum visibility and natural lighting. Common areas and the master bathroom in this house for sale Jakarta use marble floors while emulsion paint finishes the interiors to create an atmosphere of total luxury. Solid wood doors and gypsum with emulsion paint finish for ceilings add to the majestic construction.
Your house near MRT is fully equipped by an elevator and Air Conditions in each room. Do not worry of a shortage as each house is supplied with 16,500 W electricity, enough for all your needs.
The Name You Can Trust
South Grove is one of the landmark properties of Intiland. As a trusted developer with a focus on quality of life, your home will enjoy connectivity with and access to the facilities of two Intiland developments: Serenia Hills and South Quarter. A road provides direct access to South Quarter and TB Simatupang to connect South Grove. In addition to three office towers, South Quarter offers extensive retail and lifestyle facilities.
All Intiland's properties including South Grove is facilitated by 24 hour integrated security system and speedy fiber optic connections for your virtual connectivity.
Accessibility
With many connections, going everywhere is faster. Here are some important access you might need:
Transportation
Lebak Bulus MRT Station
Pondok Pinang Toll Gate
Shopping Malls
Pondok Indah Mall
Cinere Bellevue
One Belpark Mall
Cilandak Town Square
Medical Centers
Mayapada Hospital
Siloam Hospital
Educational Institutions
Highscope Indonesia School
Singapore International School
South Grove is a class of its own. If you are looking for a house near MRT, South Grove house for sale Jakarta is the perfect choice. Call your property consultant today.