Just for you and your family, feel the harmony of life in a charming and comfortable environment with Griya Semanan. This residential cluster with modern-minimalist concept maximizes the function of room so that your house looks refined yet functional.
Griya Semanan is located in the western part of Jakarta which is close to Sentra Primer of West Jakarta, JORR W1 Toll gate, Rawa Buaya Station, and Cengkareng busway shelter. Through easily accessible toll access, you can reach Soekarno Hatta Airport in just 15 minutes.
Enter your information below
to get best deals from Griya Semanan
Comfortable Modern Jakarta House for Harmonious Living

Welcome to Semanan Residence, where modern living meets comfort. We work hard to create a wonderful environment for those who desiring all-inclusive safe haven to live and work. Designed especially for loving families, Semanan Residence is your perfect home. Set in a comfortable and adorable location, Semanan Residence maximizes spatial functions in a modern minimalist cluster style, making your Jakarta house beautiful yet functional. The surrounding area completely caters for many interactions and meaningful activities for your family members. Your family will naturally bond and interact in this Jakarta house.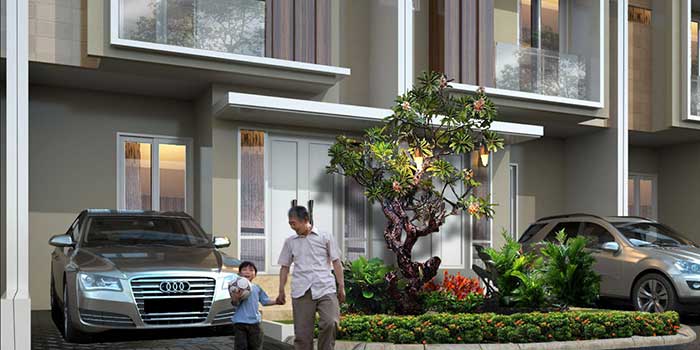 Strategic Location
Jakarta residence will love Semanan Residence. Strategically located in the western part of Jakarta, Semanan Residence is close to West Jakarta Central Business District (Sentra Primer Jakarta Barat) for all your business and work convenience.
For your beloved children, Semanan Residence has an all-inclusive school facilities from Kindergarten, Primary, Secondary, and High Schools (TK – SMA). Your kids will not be far from their home. There is also another good quality nearby school under 20 minutes away. The nearest Universities are just 30 minutes away from your Jakarta residence.
Take a relaxing day, watch a movie, eat or shop for your favorite merchandise at the famous Puri Indah Mall. You can get to this mall quickly in around 10 minutes from Semanan Residence. You can also go shop for groceries and other necessities at nearby Carrefour.
In case of emergency or just a simple health check up, head up to Pondok Indah Puri or Hermina hospitals in under 20 minutes from your Jakarta residence. Leave no worries for family members. Going to other parts of the city will be quicker through JORR W1 Toll Gate. Alternatively, Commuter Line at Rawa Buaya Station is also easily accessible from your Jakarta residence. Or you can hop on the bus at Cengkareng busway shelter. From Semanan Residence, you can reach Soekarno Hatta International Airport in 15 minutes through the convenience of the JORR W1 Toll Gate.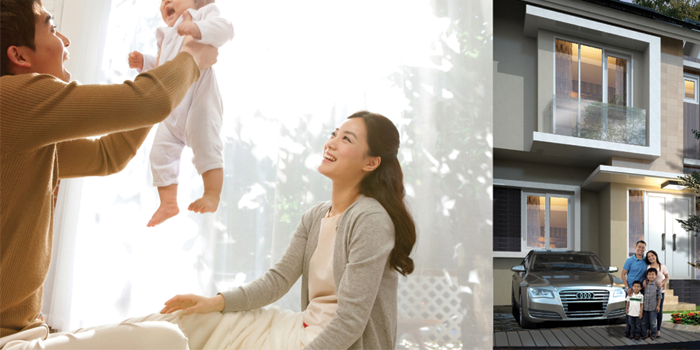 Beautiful Designs
Make a choice between two distinct designs for your ideal Jakarta residence. The New Citrine and New Zamrud clusters both boast 2 beautiful gardens at the front and back for that much needed greenery in your family home.
The 2-storey Jakarta house each has three bedrooms, one on the first floor and the other two rooms are privately tucked on the second floor. From the car park, enter your spacious living rom and kitchen, where family memories are created and treasured forever. All designs are complemented by good long-lasting quality materials. Request a brochure today for the most suitable type of Jakarta house.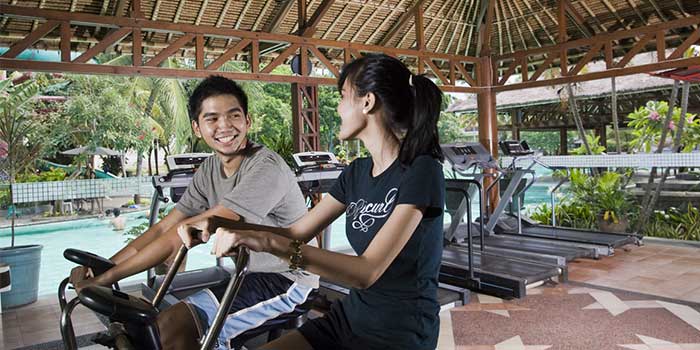 All Inclusive Living
Semanan Residence caters for all your living needs, where you can be sure of total comfort. Take a few shots at your communal basketball court and make new friends with fellow residents. You can also exchange a few drives and volleys at the tennis court. Keep your body healthy at the swimming pool. For a more rigorous exercise, the gym is the perfect place to break sweat and shape up your figure. Take care of that precious body!
You do not need to leave your Jakarta residence to do your business and shopping. The commercial area is already open for business. Minimarket and other shops wait for your visit. You might even consider opening a business close to your own Jakarta residence. If you need cash or do some banking transactions, just head up to the ATM Center to withdraw or transfer money and pay some bills.
For maximum safety and closeness with your kids, Tiara Kasih School offers an integrated education for all from Kindergarten (TK) to High School (SMA). It is education conveniently near your Jakarta house. There are also religious facilities available for your spiritual needs. Pray and commune with fellow believers of faith in these Semanan Residence amenities. If you are looking for the ideal Jakarta house, Semanan Residence is the place for you. Contact our marketing office for more details.
Nearby places
Here are some nearby places of interest to your Jakarta house and their approximate distances:
Transportation
7 Minutes to Rawa Buaya Rail Station (Commuter Line)
13 Minutes to CBD Puri
15 Minutes to Soekarno Hatta Airport
15 Minutes to Alam Sutera
38 Minutes to Pondok Indah
Education
3 Minutes to Tiara Kasih Schools
17 Minutes to IPEKA Puri Schools
30 Minutes to UNTAR & TRISAKTI Universities
Health Facilities
15 Minutes to Pondok Indah Puri Hospital
15 Minutes to Hermina Hospital
Shopping Centers
16 Minutes to Hypermart Puri
17 Minutes to Carrefour
17 Minutes to Puri Indah Mall1