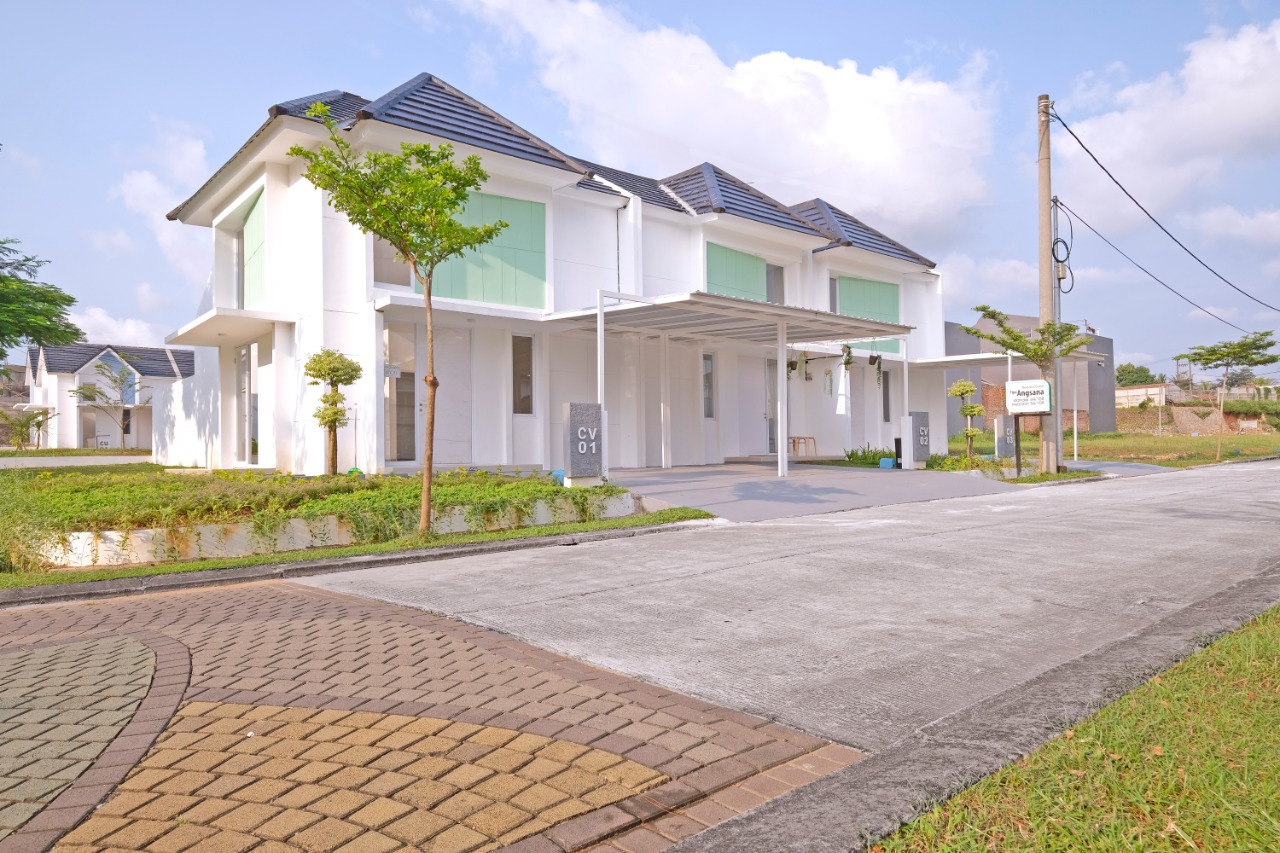 Jakarta (09/04) – Property developer PT Intiland Development Tbk (Intiland: DILD) continues to launch innovative property products to answer people's needs for the best, safest and most comfortable residential facilities with the most competitive prices. In Talaga Bestari residential area located in Cikupa, Tangerang, the Company has launched two new types of housing, namely Angsana and Akasia, in The Forest cluster.
Permadi Indra Yoga, Director of Business Development of the Company, projected that the public demand for landed houses is relatively more stable compared to that of other property products this year. The spread of the Covid-19 virus, which became a global pandemic, caused many consumers to delay their purchases. This resulted in the significant fall of property sales.
"This has become a common challenge and problem for us. We express our appreciation to and support for the government's policies in tackling this outbreak. We must remain optimistic because housing is a primary need that people will always need," said Permadi Indra Yoga in a written statement on Wednesday, 8 April 2020.
The Company sees that market demand for high quality residential products with affordable prices remains quite high, especially in Jakarta's buffer cities, such as Tangerang, Depok, Bogor, and Bekasi. The residential market for landed houses with prices below Rp1 billion tends to be moving, although it is also experiencing a slowdown.
"We continue to fill the market niche in the middle segment by launching residential products that can satisfy the public demand. The market potential in this segment comes mainly from young families who are looking to buy their first home," he said further.
The launching of these new types of housing should meet the needs in the market, especially among young families. Both types of housing boast a number of advantages in terms of concept, design, size, as well as comfort and safety, not to mention the more affordable prices.
Wiantarajakti Lucius, head of Talaga Bestari housing project, explained that Angsana and Akasia type houses had been developed with a concept of a 'growing home'. That is, residents can append several rooms at once at a later date, according to their future needs.
The Angsana type provides a spacious enough yard to allow the house to grow horizontally (to the backside). The Acacia type has a two-story structure, allowing the house to grow vertically or upwards.
The Angsana type has a building area of ​​44 square meters and a land area of ​​108 square meters. The house, built on a 6 × 18 square meter land, is marketed at about Rp800 million for hard cash purchase.
There are no more than 51 units on offer exclusively, according to Wiantarajakti. The Angsana type is equipped with two bedrooms, a living room, a kitchen and a bathroom, and has a spacious carport to fit one car and one motorbike. This type provides a 30 square meter yard on the back that can be built on, to add some rooms with certain functions according to the wishes of the proprietor.
One of the main advantages of the Angsana type is the flexibility and creativity for the proprietors to arrange their homes according to their own budget and taste. This is unlike most other housing products in the same class in the market, most of which do not provide an opportunity for the home to 'grow'.
The Company has prepared show houses to help prospective buyers see the advantages of the Angsana type. There are three show houses, for the standard plot (44/108), the corner plot (44/172), and the standard plot that has been developed with an additional mezzanine floor, so that the building area becomes 56 square meters.
The Angsana type has a high enough ceiling, about 4.9 meters, making the house feel more spacious, comfortable, and functionally flexible. Consumers can also apply for a license to add the mezzanine floor for an additional fee, so that the house can have more space.
Another new product is the Akasia type, which has a building area of ​​41 square meters and a land area of ​​72 square meters. The two-bedroom house of this type is marketed with prices starting from Rp600 million.
This type has been well received by the market, especially among end users who wish to live in Talaga Bestari. This type is also suitable for investment purposes because its price is still affordable and competitive compared to prices in other buffer areas of Jakarta.
"The Acacia type is one of the most highly demanded products. We started from marketing 37 units and now only four units are left," said Wiantarajakti.
The Company is also setting up a number of attractive promotional programs for cash purchases of the Angsana and Akasia types. The program includes a special discount of 9 percent and an additional 2 percent, free smart home, air conditioning in all rooms, waived maintenance fee (IPL) for one year, and a carport canopy. Especially for the purchase of Angsana, buyers will get the fee for the acquisition of land and building rights (HPHTB) waived, up to a certain period.
Area Development
Talaga Bestari is an integrated residential development area covering ​​308 hectares located in Cikupa, Tangerang, Banten. This residential area is growing rapidly and is equipped with various supporting facilities and solid infrastructure.
Talaga Bestari's location is strategic and relatively easy to reach from Jakarta and Tangerang. Located near the Balaraja Timur toll gate, this residential area can be reached within 35 minutes by car from Tomang, West Jakarta.
"Talaga Bestari will be more easily accessible from the direction of Serang and Cilegon after the operation of the East Balaraja toll interchange as of April 2020. So far, Talaga Bestari residents who commute to Serang and Cilegon have to go through the West Balaraja toll gate," said Wiantarajakti.
Wiantarajakti believes that the prospects of Talaga Bestari will be brighter along with the completion of the Serpong-Balaraja toll road construction. The toll road access will directly improve connectivity from Serpong to Merak and Jakarta.
In line with the concept and theme of the area, namely 'Living in Harmony with Nature', the development of Talaga Bestari is guided by environmentally friendly approaches and principles. This concept is brought to life through the development of a pristine, healthy, and comfortable environment as the proper place to live.
There are ample facilities on offer. There is a sports center equipped with a swimming pool and a gym, a complex of shophouses, and a restaurant. Educational facilities are available and wide-ranging, from playgroups to high schools, such as Al-Azhar Syifa Budi from kindergarten to middle school, Insan Madani School from kindergarten to vocational school, and Montessori School for playgroup and kindergarten.
"To facilitate residents' mobility, we provide shuttle bus services to Supermal Karawaci, TangCity Mall, and to Bandung. We also plan to add routes to Serang and Jakarta because more and more residents of Talaga Bestari have to commute to the capital and to Serang," explained Wiantarajakti.
Wiantarajakti is optimistic that Talaga Bestari has bright prospects as a residence and investment choice. The massive infrastructure development and transportation routes provide added value for the development of the area and its surrounding communities.
"The majority of our buyers are end users, investors, and customers who are buying a house for the first time. Therefore, the factors of price, building area, and flexibility in future development are important things for them," said Wiantarajakti.
Currently, the surrounding neighborhood of Talaga Bestari residential area is growing rapidly, where thousands of families reside. Property prices in this area are also comparably the most competitive than other housing products in the same class around Cikupa, Tangerang.