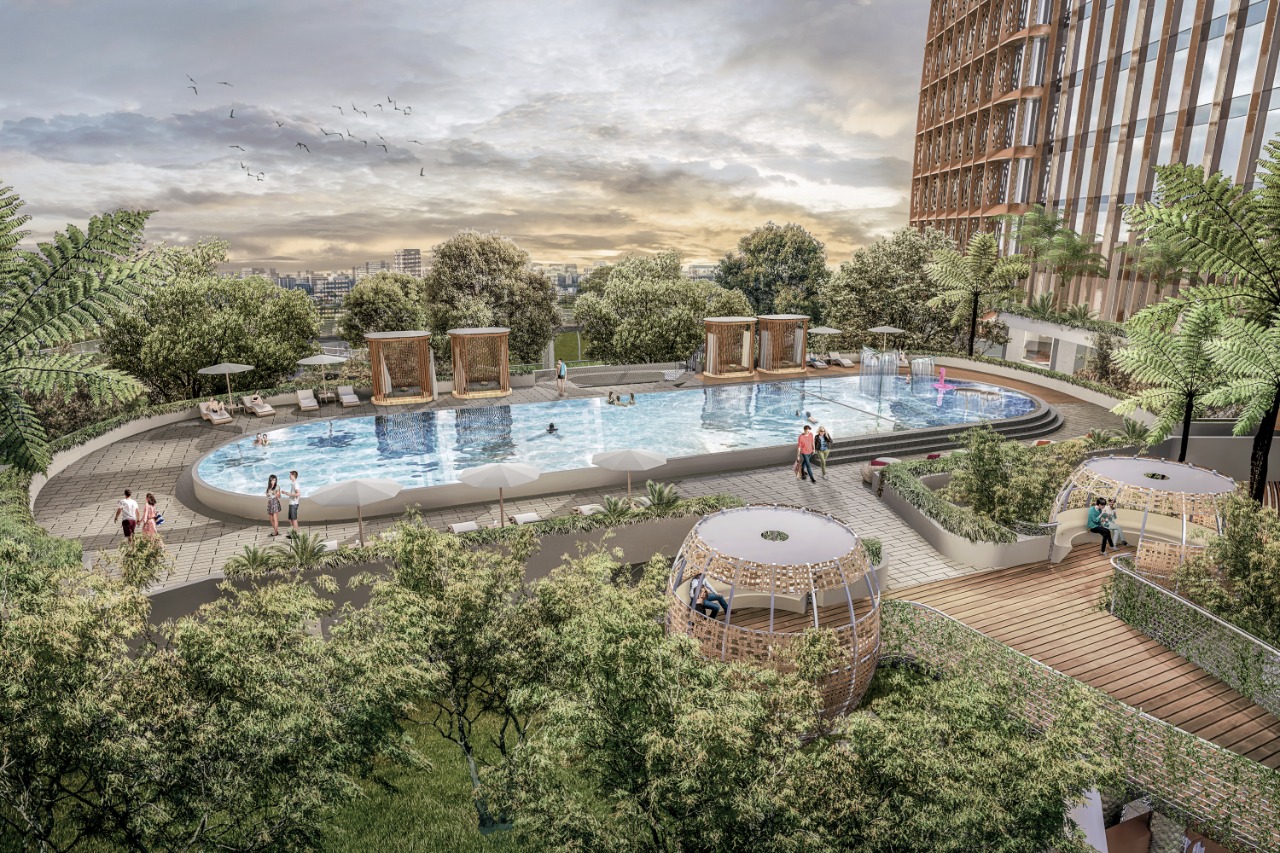 Jakarta (21/08) – During the current Covid-19 pandemic, implementing strict health protocols and living in a healthy environment and home are the best solutions for everyone. The home has proven to be the safest and most comfortable place amidst the rise of the spread of the severe acute respiratory syndrome coronavirus 2 (SARS-CoV-2) which has caused the global Covid-19 pandemic.
Thus Hendro S. Gondokusumo, Founder and Chief Executive Officer of PT Intiland Development Tbk (DILD; Intiland), explained at the Webinar on Healthy Living: Healthy Heart & Covid-19: The Dos and The Don'ts. The webinar was held online on Zoom and YouTube live streaming on Friday (21/8), and was presented by Intiland through two of its apartment development projects: SQ Rés and Fifty Seven Promenade.
Apart from Hendro S. Gondokusumo, the webinar activity also featured dr. Nikolas Wanahita, MD, MHA, FACC, FSCA, a cardiologist from Mount Elizabeth Novena Hospital Singapore, and dr. Twindy Rarasati, a young doctor, actress, and Covid-19 survivor.
"The concept of 'home' is no longer limited to a physical building. Home is a 'fortress' in the new normal, a place where we recharge and clear our mind after work, as well as being the safest shelter for the family," Hendro described.
He said that Intiland, as an experienced property developer, always strives to provide housing units, in the form of landed houses and comfortable apartments, as a place to live that still supports its residents' productivity. When most people have to spend their time at home to work (work from home), the choice of location, environmental conditions, and available supporting facilities become the crucial factors.
As an example, Hendro said, are the principles of healthy housing that are applied in the construction of the SQ Rés apartment project in TB Simatupang, South Jakarta, and Fifty Seven Promenade in the Thamrin – Sudirman area, Central Jakarta. These two apartments offer numerous advantages in terms of design and facilities, providing a solution to the need for healthy and comfortable housing tha talso maintains one's productivity.
A similar message was conveyed by dr. Nikolas Wanahita, who explained with clarity the key points related to Covid-19 transmission and the main risks faced by the community. The importance of maintaining strict health protocols by carrying out preventive measures, such as wearing masks and maintaining a safe distance, are the easiest methods to protect ourselves and our family during this pandemic.
According to him, implementing health protocols and maintaining the body's immunity by embracing a healthy lifestyle, ensuring adequate and good nutritional intake, exercising regularly, avoiding stress, and getting ample rest, are the keys to avoid becoming infected with Covid-19. Another important factor is to understand correctly the transmission patterns of the pandemic and the main risks, especially for the high-risk groups among the public, such as people with a heart disease, high blood pressure, and other degenerative diseases.
"Apart from that, other factors that are no less important are the place where one lives and the surrounding environment. Living in a healthy environment and a home that is comfortable is very helpful, as a place of refuge in weathering a pandemic like this one," said dr. Nikolas.
This is important considering that until now there are no drugs that have been empirically proven to cure Covid-19. Healing for Covid-19 patients is more owing to their own immunity and stronger body resistance, allowing them to fight and eradicate the SARS-CoV-2 virus from their body.
Another critical factor, according to dr. Nikolas, is properly understanding the Viral Load that may cause a person to be exposed to Covid-19, but does not show symptoms of illness, or at the other end, becomes severely ill and dies. In simple terms, the Viral Load is the relationship between the number of virus particles that enter the body and the impact on the person exposed. The greater the number of viruses that enter the body, the higher the risk of the body's immunity to lose and the sufferer may experience a cytokine storm, where their own immunity becomes irregular so that it turns to attack their own body and the organs.
"The Viral Load factor is not new in the medical world. Having been introduced since the 1930s, this factor can explain why there are doctors or medical personnel who are young and healthy who have died due to exposure to Covid-19 at the hospital," said dr. Nikolas.
Then, dr. Nikolas also reminded that a number of cases were found in which patients were infected, but showed no symptoms and could recover on their own. On the other hand, there are also patients without symptoms who later died without having the chance to be promptly treated.
Another high-risk group are patients with low immunity or patients with comorbidities. For example, people with a heart disease, hypertension or high blood pressure, diabetes, having had organ transplants, or other chronic diseases. However, there have also been cases of young and normally healthy sufferers who eventually died of Covid-19.
"This happens because in addition to immunity, the viral load factor is very important in determining whether the infection will be mild or severe. As Covid-19 sufferers do not keep their distance when interacting with other people, the viral load will grow," said dr. Nikolas.
Regarding heart health, he said that there are a number of important factors to be considered. First, people with cardiovascular disease should be very careful. Research conducted in China showed that the fatality rate of Covid-19 patients suffering from cardiovascular disease is quite high compared to those with other diseases, such as diabetes and high blood pressure.
"Covid-19 attacks the respiratory organs, but it is very dangerous for people with heart disease or heart disorders. From a number of incidents, it is evident that Covid-19 patients with cardiovascular disease died because their immunity became out of control and turned to attack the heart. This is a fact that sufferers of cardiovascular disease need to know," said dr. Nikolas.
As regards the link between the Covid-19 pandemic and maintaining a healthy lifestyle, Hendro reiterated the importance of environmental factors and healthy housing as an effective means of protecting oneself. In particular, elderly people like himself are relatively more vulnerable and have a higher risk of contracting Covid-19.
Hendro said, as a senior citizen, he had greatly reduced his activities outside the home. All business activities are carried out at home by utilizing the latest information technology tools. Business and organizational work such as meetings, coordination, and briefings, are all done online.
"So, naturally, many senior citizens like myself choose to become hermits in their homes. We do not dare to go to the office or go out of the house, meet our friends or colleagues, or more so to public facilities, such as restaurants or malls," he commented further.
Quoting the report from Johns Hopkins University, Hendro said that eight out of ten deaths due to Covid-19 in the United States were observed in patients over 65 years of age. This fact adds to his fear and worry. Especially, the elderly who have various degenerative diseases such as high blood pressure, diabetes, and heart disease, are especially vulnerable.
Even though they have to face a high risk, Hendro suggested that senior citizens remain productive even though their activities and mobility are very limited. Doing light exercises every day such as walking within the residential area is highly recommended. Exercise has been shown to stimulate the body to release endorphins to reduce pain and deliver positive energy.
"I always try to walk every morning in the neighborhood or on the treadmill. I have carried out this activity for decades, not only during the pandemic," he said.
Hendro also advised the public to keep in touch with their family members, relatives, and colleagues. Intense communication will help us stay close to our family and friends. If necessary, one can do a face-to-face call made possible by technology, beyond the traditional phone call. This activity helps them stay happy because they will feel close to their family and friends.
The next key tip is to be able to apply the principle of "My house, my palace." Staying home for a while and making your home the most comfortable place is becoming more important nowadays. So we should make sure that our home meets the criteria for a healthy home and is able to support us amidst the pandemic.
He gave an example that currently many residential houses or apartments have adopted the concept of a healthy home: They have good air circulation and lighting, are clean, and offer a space to support work and other activities.
In closing, Hendro concluded his presentation by mentioning that one thing he learned during the pandemic was doing new activities or hobbies more frequently as a form of adaptation. The key is to keep thinking positively and to be happy about every change.
Valuable Experience
On the same occasion, dr. Twindy Rarasati also had the opportunity to share her experience being tested positive for Covid-19 through the polymerase chain reaction (PCR) swab test a few months ago. She admitted that she did not run a high fever like most people exposed to this virus. She only felt shortness of breath and loss of sense of smell.
It was more confusing to her when the rapid test result came out non-reactive. However, because she felt that there was some symptoms she felt, and because she was a doctor, dr. Twindy decided to do a PCR swab test herself. That came out positive. From this experience, she emphasized that the PCR swab test is the gold standard for determining whether someone is infected with Covid-19 or not.
"This case may not only happen to me, but also to other people who feel that they are healthy and have not done self-isolation from the onset of their symptoms. It could be that someone has been infected, but their antibodies have not yet appeared to fight the SARS-CoV-2 virus," said dr. Twindy.
After undergoing treatment in the hospital for two weeks and receiving a negative PCR swab test result twice, dr. Twindy was allowed to return home while still undergoing self-isolation for 14 days. Self-isolation for two weeks is important to prevent her from becoming reinfected with Covid-19, as well as to calm herself down and restore her health.
This experience became a valuable lesson for her. In a pandemic like now, according to dr. Twindy, it is imperative for people to maintain their health by taking nutritious foods and drinks, exercising diligently, and staying active, as well as implementing Covid-19 prevention protocols wherever they are.
One thing she thinks is supremely important upon being tested positive is having the confidence and enthusiasm to recover and be healthy again. Support from family, relatives, and friends is very meaningful to inspire enthusiasm, foster motivation, and confidence to be healthy again.